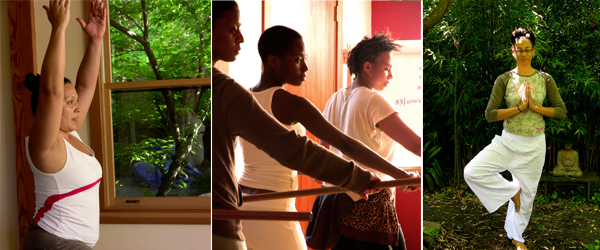 fearlessYOGA is the first and only yoga approach designed for activists, allies, and agents of social change.
fearlessYOGA Teacher Training offers one of the most comprehensive, inspired, innovative and transformational yoga teacher trainings. Throughout our trainings, you will gain the knowledge, skills, and confidence you need to become an exceptional—and successful—yoga teacher, able to work in any environment you choose.
fYTT's design is especially oriented towards activists. The precise language and approach of the "Effort & Release" teaching framework directly corresponds with the seminal yogic text, the Yoga- Sutras. The method illuminates the habit-patterns of aggression and over-doing by introducing postures in incremental levels of engagement. Alternatively, it encourages activists to learn to "back off" of over-reaching in exchange for discovering one's own internal pace and alignment.
We welcome you to live, learn, and transform here, while immersing yourself in a residential, yogic lifestyle. The fearlessYoga Teacher Training has been designed in ways that will cultivate your ability to thrive in your personal and professional life and graduate as a unique fearlessYoga teacher, with a well-developed connection to a deep source of inspiration—and the ability to guide others into theirs.
Curriculum
The fearlessYOGA Teacher Training (fYTT) is a certification program that empowers the student-practitioner with both certification as a fearlessYoga Teacher (C-fYT) while also meeting the minimum requirements to become a Yoga Alliance Registered Yoga Teacher at the 200-hour level (RYT200).
Full certification requires:
• 200 hour teacher training
• Apprenticeship (during this time you are considered an Instructor and Teacher Candidate)
• Ongoing service commitment
Benefits of becoming a Certified fearlessYoga Teacher include:
• Inclusion in the fearlessYoga Directory of Teachers, Instructors and Leaders
• Membership in fearlessYoga Tribe – new network of social justice practitioners committed
to inner change and a way to effect social change.
• Recommendations and referrals to social justice organizations and institutions seeking committed yoga teachers for instruction and retreats.
The 200-hour training is the first step towards becoming a certified fearlessYoga Teacher. Content hours are designed to meet Yoga Alliance minimum requirements, with additional hours concentrating on social justice application of yoga. Attendance at all sessions is required.
The 200 hours are spent covering the following areas:
Techniques: Yoga Asana, Pranayama, and Meditation – 103 hours
Teaching Methodology – 32.5 hours
Anatomy and Physiology – 20 hours
Philosophy/Ethics/Lifestyle – 34 hours
Practicum – 15 hours
Other – 5 hours
Total = 203.5 hours
Unique highlights and perspectives of the fYTT curriculum within these areas include:
Technique: fearlessMeditation: practice of the body
Teaching Methodology: Social Justice "From Oppression to Liberation" & "Paradigms of Freedom"
Philosophy: Introduction to Sanskrit
Teaching Methodology: "Language of Freedom" Communication
Philosophy: "Returning to Source: Yoga Sutras of Patañjali Study"
Anatomy & Physiology: "Every Body DIfferent Body: The Structure of Limits"
Lifestyle: Eating & Wellness
Admission Requirements
Accepted students must…
Be 18 years of age or older
Submit a completed program application (including scholarship application) and the required program application fee in a timely fashion
Display English language competency (foreign language speakers are encouraged, however training is english at this time)
Demonstrate the emotional maturity, skills, capacities, and mental stability to safely and confidently teach fearlessYoga
Possess a demonstrated commitment to social justice and desire to offer yoga towards that end.
Exhibit the ability to contribute to a safe and cohesive learning environment
Show medical and mental health readiness to fully participate in all required aspects of the program
Have some yoga experience
Schedule
The 28 day training features an intensive and rigorous schedule designed to fully immerse the Student-Practitioner in all facets of the practice, study and teaching of fearlessYoga. There are six days of training and practice per week. No classes or practice are held on Mondays to allow for integration…
Please take care to notice that the combination of class time, physical practice, study, preparation and need for rest means that it is not possible to take on any additional work or schooling, even if you are a locally-based commuter. The single day per week that there is no class time is for integration is a requirement and is critical in the learning process, so it is unadvisable to take anything on.
The following is a typical daily schedule:
6:00am-8:00am – Sadhana
8:00am -9:00am – Breakfast
9:00am-11:30am – Program Session I
11:30am-1:30pm – Lunch
1:30pm-4:00pm – Program Session II
4:15pm-6:00pm – Yoga Practice
6:00pm-7:00pm – Dinner
7:00pm-9:00pm – Program Session III or homework (as scheduled)
Tuition
fYTT class sizes are small, with a limited number of residential spaces available. Local and visiting commuters are also welcome:
Tuition: $2,250*
*work exchange and payment plans are available for tuition
Payment, Cancellation, and Refund Policies
Payment Policy
50 percent of the total program cost (tuition and housing) is due at the time of registration to reserve program space and housing. The remaining balance is due seven days before the program begins.
Refund and Cancellation Policy
Refunds (less a $50 processing fee) will be given according to the following schedule: for cancellations two or more weeks prior to the start of the program, 100% of monies paid will be refunded. Less than two weeks prior to and up to completion of 25% of the program, 25% of the program cost will be refunded. No other refunds or credits are available. The standard cancellation policy applies to all other charges.
Method of Payment
We accept the following forms of payment (US dollars):
• Visa, MasterCard, American Express
• Personal checks
• Money orders
fearlessYOGA | Levels of Certification & Training Requirements
Leader – ability to verbally lead (without individual instruction) one or more of the constructed series of fearlessYOGA and understanding of most important contraindications of postures in the series and understanding of leader/guide/teacher ethical behavior
Instructor – 40-hour basic training in theory and keys concepts, including social justice context, relationship of personal practice to social change, major contraindications and basic assists
Teacher –  corresponds with Yoga Alliance 200-hour teacher training requirements; understanding of philosophical underpinnings; anatomy & physiology
Experienced Teacher: corresponds with Yoga Alliance 500-hour teacher training requirements
Master Teacher –  complete grasp of fearlessYOGA philosophy, theory andpractice at physical, mental and spiritual (body/mind/spirit) levels