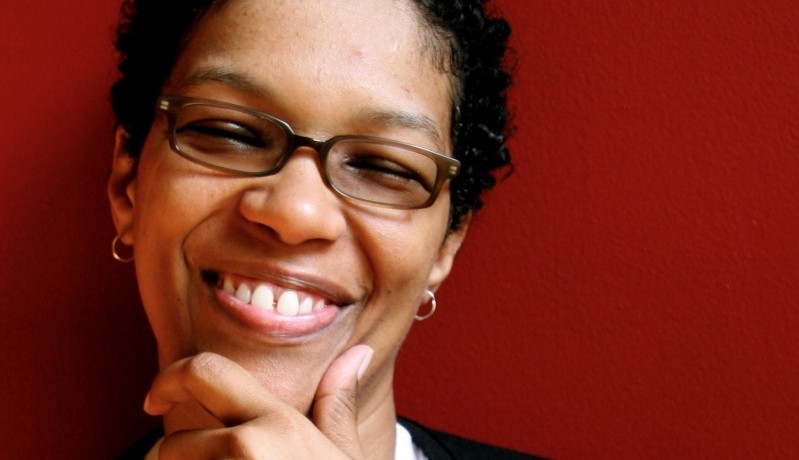 [table id=2/]
Dear friends, colleagues and admirers of Rev. angel Kyodo williams,
We are writing to ask for your financial support with medical and living expenses for angel as she navigates a recent diagnosis of Lupus Nephritis—now in Stage IV, the most aggressive and dangerous stage of this disease.
Once called "the most intriguing African-American Buddhist" by Library Journal, angel Kyodo williams has been bridging the worlds of spirit and justice since her critically-acclaimed book, Being Black: Zen and the Art of Living With Fearlessness and Grace. Ordained as a Zen priest, she returned to her activist background and began applying wisdom teaching to social issues to become a leading voice in the ever-emerging field of Transformative Social Change. For over 15 years, angel has deeply invested her time and energy to putting into practice her unwavering belief that the key to transforming society is transforming our very own inner lives. Both grounded and fierce, she is known for her unflinching willingness to both sit with and speak uncomfortable truths. Whether writing, teaching or speaking, her voice is unique:
A Serious Situation

Some of you may know that angel was diagnosed with Lupus in 2007. Lupus is an autoimmune disease that randomly affects entire organ systems of the body. It most often impacts the lives of women of color—particularly African-American women—and has been described as:
"one of the cruelest, most mysterious diseases on earth – it strikes without warning, has unpredictable, sometimes fatal effects, lasts a lifetime, and has no known cause and no known cure." —Lupus Foundation of America
angel has managed two lupus flares in the past, but not long after participating at the 2012 RNC and DNC conventions to galvanize mindfulness and yoga communities to engage political process and to teach practices, she returned home with four blood clots. This was when it became clear that her health had taken a significant turn.
Lupus Nephritis is when lupus attacks the kidneys. angel's rheumatologist notes, "the kidneys are silent," so disease often goes undetected until it reaches advanced stages. Her kidneys are currently unable to regulate fluids properly and she has suffered numerous related complications. She has also developed a rare blood disorder that causes recurring blood clots that, without medication, render her susceptible to pulmonary embolisms and strokes. While not the cause of lupus, stress—physical, mental and environmental—is a significant instigator, and the potent medications used to halt the failing of her kidneys have significant side effects to be managed, as well.
A Time of Challenge
In addition to dealing with the serious challenges to her health, angel is what she calls "a poster child for Obamacare." For several years, she has been unable to get health insurance due to restrictions on insuring people with "pre-existing conditions." Alongside her inability to be insured, her financial need is a result of a depletion of savings because of out-of-pocket medical expenses paid during her two previous acute lupus episodes, and because she has chosen to not receive a full salary for her work as a director in the field of transformative social change for the past nine years. And in her role as a spiritual dharma teacher and priest in the Buddhist tradition, angel has always chosen to only receive dana—offerings freely given. She has lived with fewer material possessions and a limited personal income from select consulting and speaking fees.
While the beginning of the year was extraordinarily difficult with hospital stays and uncertainty, angel is indomitable: she's in good spirits, getting stronger and bringing the full breadth of her practice to her commitment to healing and learning how to work in ways that are sustainable and aligned with her body's current needs. She hopes to do one public engagement each month, which is vital for her sense of connection and continuity.
Supporting Service
angel Kyodo williams has served her community and many circles with visionary leadership, inspiring commitment, compassion and honesty. The reach of angel and her work has inspired thousands of people across the country, both in spiritual circles and various areas of social justice and movement work, to practices that have transformed their lives, their organizations, their work, and the communities they serve. Now, we ask that you join us in supporting her at this time.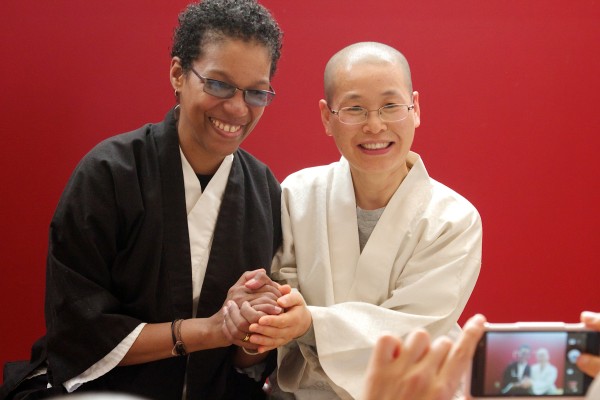 How You Can Help
We have asked angel to put together a projection of her financial needs and have agreed to help her source the funds to give her time and space to focus on her healing. We are seeking to raise a minimum of $70,000 to support angel through the end of the year after which time we hope the new healthcare laws—Affordable Care Act—will enable her to receive coverage. For legal purposes, we have divided angel's Wellness Recovery Fund into two categories:
[table id=1 /]
In the spirit of love and compassion, we welcome you to please join us in supporting angel.
A Concerned Group of Friends,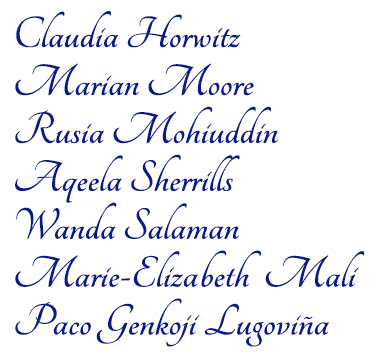 Learn More About angel
Many of us know angel mainly through one lens, but she moves fluidly between distinctly different spheres, playing different roles while consistently applying deep-seated wisdom to the most critical and intractable challenge of our time: that of a just society.
(if you do not see videos, please click red links)
On Separation: How Society's Structures Can Shift

Why Contemplation/Awareness Matters to Change…and How (will only play 2:13)

Creating Enlightened Society: A Truly Intimate Idea