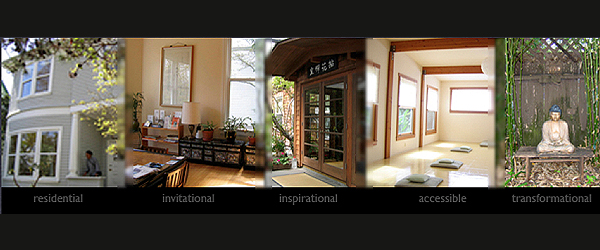 We are located at:
2584 Martin Luther King Jr. Way
Berkeley, CA 94704
phone: 888.XSOCHANGE
Hours of Operation
Transformative Change is housed at the Center for Transformative Change, a property located in Berkeley, CA that is comprised of a large renovated Victorian home, a Practice Hall at the rear of the Main House and a former garage being renovated into the peaceWELL, an additional healing and gathering space.
We are a residentially-based organization and practice-based community. We have a small staff and host limited public hours. We welcome visitors, and we ask that you be considerate of the hours posted with respect to dropping in. We host an ongoing schedule of practice, and  events and workshops take place in a separate unit behind the main house. You are welcome to come up to 30 minutes prior to the start of any practice session, or before an event that you've registered for, and enjoy our garden space or practice hall.
Mondays: Closed to the public
Tuesdays: 10am – 1pm; 2:30pm – 5pm
Wednesdays: 10am – 5pm
Thursdays: 10am – 5pm
Fridays, Saturdays and Sundays: for Practice or Events
Public Garden
Our garden is currently in slight disarray while the peaceWELL is being renovated, but is still lovely and open to the public Tuesdays – Fridays from 1pm – 2pm. The Practice Hall is open for use to members only during these hours. Please inquire about membership.
Driving Directions
from San Francisco, CA
1 US-101 S via the ramp to I-80 E/Oakland/San Jose
2. Take exit 433 on the left to merge onto I-80 E toward Bay Bridge/Oakland
3. Take the Ashby Ave/CA-13 exit
4. Merge onto CA-13 S/Ashby Ave N
5. Turn left onto Martin Luther King Jr Way/MLK
Destination will be on the left
2584 Martin Luther King Jr Way
Berkeley, CA 94704
View Larger Map
Public Transit Directions
from San Francisco, CA
Take BART – Millbrae-Daly City to Richmond towards Richmond
Depart train at Ashby BART Station
Walk to Martin Luther King Jr Way & Ashby
Take the # 12 Bus towards headed North
to Martin Luther King Jr Way & Parker St
2584 Martin Luther King Jr Way
Berkeley, CA 94704