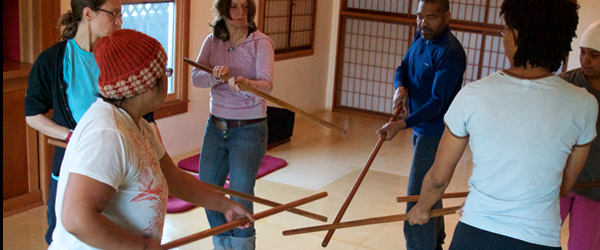 alignment, breath, center | centered in movement
3|One (basics), is a four session introductory body-based practice using 31 dynamic movements (using a wooden staff), dyad/group mini sessions, and core principles designed to support you in maintaining balance in your life, work and relationships.  This course is designed specifically to support social change & social justice groups, organizations, agents.
As a non-profit organization ourselves, we know in these rapidly changing times with limited financial and human resources, you are faced with many competing priorities that drain those resources.  Social change and organizing work is brimming with great opportunity and great challenge.  But we are trying to do more with less. As a result, finding balance in our lives, living sustainably and adapting to ever-changing circumstances, is becoming more difficult than ever. With these limitations, it is now essential to learn how to act from a centered place and sustain ourselves in the different configurations our work for change requires.
An evolving adaptation based on the martial arts practice of san ju ichi no jo kata (31 count wooden staff form,) 3|One is a body-based training and practice designed specifically to support organizations and individuals working for progressive change to become more effective, sustainable leaders personally and professionally.
Designed specifically to support people doing progressive social change work, 3|One's physical practice acts as a diagnostic tool to help reveal unconscious habits of the body and assess limiting patterns and dynamics within individuals, partners and groups. It's theoretical principles reveals strategies that can assist you, your team and your organizations to move forward in more grounded, powerful and sustainable way, no matter what the challenge.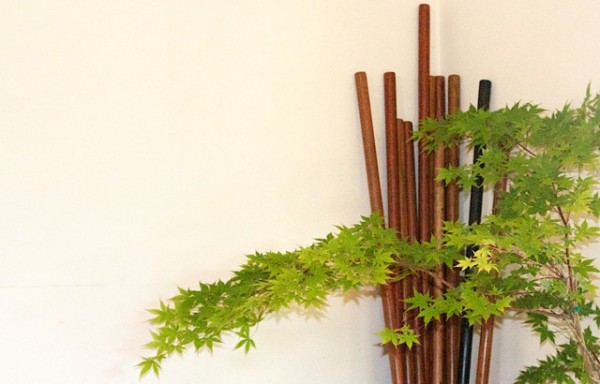 What You Learn:
31 movements @ approximately 8 movements per session over 4 sessions. Progressing through individual, partner and group practice, with conversation and dyads, you learn these essential skills and concepts: finding and maintaining your center, extending your energy, acting sustainably and taking coordinated action, through four sessions:
Session I: Alignment: finding center | space awareness
Session II: Presence: being in the moment | self-correction
Session III: Connection: being in relationship | taking feedback
Session IV: Stillness: managing chaos | rhythm & timing
What People Say: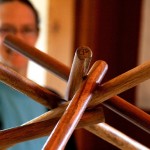 "I never wanted to swing a stick or practice a martial art…I took the 3|One course anyway. I was, struggling at the time, with significant challenges in my organizational work. In one moment in one session, I felt in my body the impact of the beliefs that were limiting both me and the organization. In a moment of utter clarity, the work with the jo in a small group helped me to see the way forward. My life changed in ways I never anticipated as a direct result of seeing what I could no longer ignore."—Svani Grevemeyer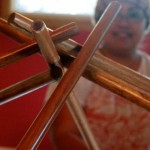 "It's totally worth the time and effort invested, as it allows me to breath spaciousness into contraction and create a life more integral, sustainable, and aligned."—Karen Muktayani Villanueva
Trainers
angel Kyodo williams is the creator and co-developer of 3|One. She is a master teacher, trainer and coach that uses her unique insight into liberation and justice to draw forth essential, practical lessons for living a more powerful life, from a wide range of practices. She applies these to advancing transformative social change through teaching people critical skills to develop more embodied leadership, effective organizations and aligned movements. angel's background includes a deep meditation practice and 20 years of formal zen training. A long-time fan of martial arts, she studied Kaze Arashi Ryu, a form based in Aiki Ju Jistsu, dabbled in Aikido & Karate, and holds a dusty purple belt in the explosively powerful Sanuces Ryu because she was too lazy to complete her brown belt test.
Zochi Alonzo Young is the lead instructor and co­‐developer of 3|One. Zochi is a 3rd degree black belt. He has studied martial arts in both Asia and the United States for over 40 years. Notably, he's studied taiji with Master T.Y. Pang, aikido with Shihan T.K. Chiba. Under the tutelage of Rev. angel Kyodo williams, he's transformed himself and his art from a practice of form, into a relationship with life and self-cultivation.
Together, they both draw forth and highlight the specific aspects of this form that are easily interpreted into increased body-awareness. This awareness helps activists gain insight into the actual mechanisms of being off-­center as it is expressed physically and how regaining that center in the body gives way to regaining center in the mind.
rusia n. mohiuddin, based in NYC, is a trainer and somatic coach who pioneered the integration of somatics into an organizing framework towards developing a new, more holistic model for social justice change work that places in its center, the necessary transformation of social change agents.